Dorothy Perrine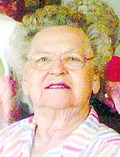 April 10, 1927 ~ June 13, 2009
Dorothy Mae Perrine, 82, of Taylorville passed away Saturday, June 13, 2009, at 4:05 a.m. at Meadow Manor Nursing Home. She was born April 10, 1927, in Taylorville, the daughter of John and Lillie A. (Rhodes) Walter.

She is survived by a daughter, Marilyn L. Perrine (companion, Rex Rogers) of Taylorville; three brothers, Lester Walter of Pearl, Bill (Shaun) Walter of Rochester, and Richard (Joan) Walter of Blue Mound; three sisters, Deloris (Bert) Barber of Springfield, Ellen (Gary) Ahrens of Chatham, and Barbara Belk of Taylorville; and several nieces and nephews. She married Norman Perrine on August 3, 1946, in Springfield; he preceded her in death; along with her parents; sister, Ruth Green; and infant sister, Evelyn Walter.

Dorothy was a homemaker.

Services were entrusted to Shafer-Perfetti Funeral Home of Taylorville, Illinois.
Memories Timeline
---