Jackie D. Gregory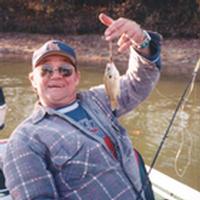 March 7, 1939 ~ October 2, 2016
Jackie Dean Gregory, age 77, passed away October 2, 2016 at home in Panama, Illinois after a long
illness. He was born on March 7, 1939 to Lucille Allen and Earl "Bud" Gregory in Meredosia, Illinois.

Jack grew up in Meredosia on the Illinois River and graduated from Meredosia-Chambersburg High
School in 1957. He played basketball during his school years and in later years refereed games there.
Jack married Susan Griebler March 7, 1957 and they had six children: David Gregory (wife, Sherri) of
Concord, IL; Pammy Jean Gregory of Meredosia, IL; Anthony "Fred" Gregory of Meredosia, IL;
Jacquie (husband, Jerry) Dugger of Bruner, MO; Carla (partner, Randy Jackson) Henline of Versailles,
IL; and Alan (wife, Holly) Gregory of Murrayville, IL and all survive. Jack enjoyed camping and
fishing Meredosia lake and the Illinois river. He and his family spent many summers on the lake. He
tended bar at his parent's place "Bud and Lucy's" and worked at National Starch as a union Boilermaker
for 17 years before going into the field. He coached Pony league baseball and was a member of St.
Patrick's Catholic Church in Bluffs, Illinois.

Jack married Sue Dixon nee Curbis on May 12, 1981 in Hillsboro, Illinois and they made their home in
Panama. Jack raised a daughter, Amy (Dixon) Mattox (partner, Gary Muich) and two grandchildren
Adreanne (husband, Doug) Cruthis and Christopher Mattox all of Panama, IL and all survive. Jack was
a member of Sacred Heart Catholic church in Panama and served for many years on the village board.
He was an avid gardener and enjoyed wine making. He loved to sing karaoke and could almost sing
on key. He enjoyed drinking Stag beer at the Panama VFW with his dear friends Todd Rau, Robby
Benson, Kenny Cruthis, Norton Henke, and Terry and Debby O'Dell.

As a life-long Union member Jack was a rabid Democrat. He loved his trade and retired from
Boilermaker's local #363 in 1999. Shortly after, his illness caused him to be bedridden however, he
and his faithful bed-companion "Oliver", his Yorkshire terrier, seldom missed a sporting event as Jack
loved Cardinal baseball, NFL, Fighting Illini games and NASCAR.

Jack is survived by his wife Sue and nine children (mentioned above), his brother Jerry "Tadpole"
(wife, Carol) Gregory of Meredosia, IL; twenty-one grandchildren; twenty-nine great-grandchildren;
one great-great-grandchild and numerous nieces, nephews and cousins.

He was preceded in death by his parents; two sisters, Marty Floyd and Mary Rausch; one grandchild
Lucas Barfield; one great-grandchild Liza Jane Gregory; and his dear friend Bruce R. Newman whom
he thought of as a father after his own father's death.

Funeral services will be held at 11:30 AM on Friday, October 7, 2016 at Perfetti Funeral Home in Panama with Rev. Paul Kala officiating. Burial will follow at Union Cemetery, Panama. Friends are invited to join the family for a dinner at the Panama VFW immediately following the burial. Visitation will be held on Thursday from 5:00-8:00 PM at Perfetti Funeral Home in Panama with the rosary recited at 8:00 PM.

A Celebration of Life and dinner will be held Saturday, October 8th at 2:00 PM at The Church of Christ
on Hwy 104 east of Meredosia, IL.

Perfetti Funeral Home in Panama is in charge of arrangements.
---
SERVICES
Visitation
Thursday, October 06, 2016
5:00 PM - 8:00 PM
Perfetti Funeral Home
117 Walnut Street
Panama, Illinois 62077
Burial
Friday, October 07, 2016

Union Cemetery

Panama, Illinois 62077
Funeral Service
Friday, October 07, 2016
11:30 AM
Perfetti Funeral Home
117 Walnut Street
Panama, Illinois 62077
Memories Timeline
Guestbook
---