Temple Black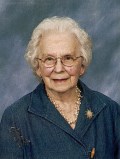 August 25, 1920 ~ March 23, 2011
Temple H. Black
HARVEL - Temple Hope (Zimmerman) Black, 90, of Harvel, passed away on Wednesday, March 23, 2011 at 10:00 PM, at Taylorville Memorial Hospital, where she had resided since January 2007.
She was born August 25, 1920 in King Township, the daughter of Wade Frederick and Louise Fredericka (Huber) Zimmerman. She was married to William Edward Black on September 9, 1951 and he preceded her in death on April 17, 1984.
She graduated from Harvel High School in 1937 and attended Illinois State University. She graduated from St. John's School of Nursing in 1942 and worked as a Registered Nurse at St. John's Hospital. She entered the Army Nurse Corp as a 2nd Lt. in February 1943 and became a 1st Lt. in March 1945. In October 1943, she began service in Norwich, England taking care of patients transferred from the battlefield. She served another tour at Chester on the west coast of England and was training for assignment in the Pacific when the war ended.
Following her discharge from military service, she worked as an RN at St. John's Hospital in Springfield and following her marriage she was a supervisor at Decatur Memorial Hospital until she resigned to care for her invalid father. She also was a night nurse at Hillsboro Hospital while caring for her father.
Temple loved to travel and made several trips to Europe as well as trips to all parts of the United States. She was a life long member of Trinity Lutheran Church, Harvel, and enjoyed the Women's Sewing Group weekly as long as she was able to drive.
She is survived by several cousins, including Don (wife, Martha) Zimmerman of Harvel, IL.
Funeral services will be held on Sunday, March 27 at 3:00 PM at the Perfetti Funeral Home in Morrisonville with Pastor Scott Busacker officiating. Visitation will be held one hour before the service. Burial will follow in Harvel Cemetery.
In lieu of flowers, memorials are suggested to Taylorville Memorial Hospital Foundation or Trinity Lutheran Church, Harvel.
Perfetti Funeral Home in Morrisonville is assisting the family of Temple H. Black.
Condolences may be made at perfettifuneralhomes.com



To Plant Memorial Trees in memory, please visit our Sympathy Store.
Memories Timeline
---