Theresa "Teddy" Q Stephens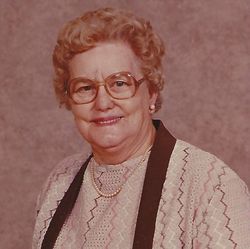 June 13, 1912 ~ August 19, 2007
Theresa "Teddy" Q. Stephens, 95, of Taylorville died at 6:05 p.m. Sunday, August 19, 2007, in Meadow Manor Nursing Home.

She was born June 13, 1912, in Witt, the daughter of Otis P. and Ethel O. Hunter Spears. She married Arlie "Nick" Stephens on February 1, 1930, in Hillsboro. He died October 9, 1979. She worked at the Illiopolis ammunition plant during World War II. She later worked for 20 years at St. Vincent Memorial Hospital in the dietary department. She was a member of the Advent Christian Church, Palmer. She was a member of Royal Neighbors.

Surviving are her daughters: Betty (husband Glenn "Buzz") Steele of Kincaid and Linda (husband Jim) Pope of Taylorville; eight grandchildren; 13 great-grandchildren; five step-great-grandchildren; three great-great-grandchildren; brother, Earl Spears of Delphos, OH; and sister, Burnetta Hill of Nokomis. She was preceded in death by her parents; husband; grandson, Chad Arlie; great-grandson, Brandon Steele; three brothers; and five sisters.

Funeral services will be held at 10:00 a.m. Thursday, August 23, in Shafer Funeral Home, with Rev. Linda Vonck officiating. Burial will be in Anderson Cemetery, Palmer.

Visitation will be held from 6:00 to 8:00 p.m. Wednesday, August 22, in the funeral home.
Memories Timeline
---