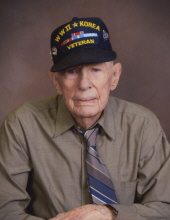 March 8, 1922 ~ June 17, 2017
Clinton Charles "Kelly" Ireland, 95, of Greenville, passed away at 5:33 p.m. on June 17, 2017, at HSHS Holy Family Hospital. Funeral services will be held on Thursday, June 22, 2017, at 10:30 a.m. at the Greenville First Christian Church with Darryl Bolen officiating. Interment will be in Montrose Cemetery with full military honors. Memorial contributions are suggested to Shriners Hospital for Children or The Greenville First Christian Church.

Charles, the youngest of eight children of Charles and Rose Thompson Ireland, was born on March 8, 1922, in Fayette County, Illinois. There he attended rural schools, before going to work in his brother's used-car garage in Vandalia. He and Lucille Pryor were united in marriage on July 27,1941, in St. Charles, Missouri. They had two daughters: Sandra Kay and Pamela Ann. They were living in St. Louis where he was working as a Union Steward at Curtiss-Wright, when he felt compelled to enlist in the U.S. Seabees in June, 1943, serving in the European Theater (D-Day, plus 5) until December, 1945. While in Paris he was chosen to be the driver for General Dwight Eisenhower for three days while the general was visiting area hospitals. He met the criteria for driver because he didn't drink or smoke. A most terrible memory for him was Christmas in France in 1944 when a troop transport ship with 2,200 young soldiers aboard was torpedoed and sunk by a German submarine, just outside the Port of Cherbourg. The 114th Seabee construction battalion, of which he was a member worked all Christmas Eve hauling in survivors and casualties. On Christmas Day he helped bury 800 young soldiers. In 1945 he returned to Sorento, Illinois, where he owned and operated a Firestone store and garage. Because of the number of young boys who hung around the garage, an Alton principal urged him to go into teaching. After taking the GED, he attended Greenville College for two years before transferring to SIU, Carbondale, to pursue industrial arts. He served as assistant shop teacher in their vocational shops. He was in the Naval Reserves at the Lambert Field Naval Air Station only two weeks when his unit was one of the first to be called into active duty for the Korean War. He served as an aviation mechanic as part of a fighter squadron aboard the aircraft carrier Tarawa. Due to chronic sea sickness, in a few months he was transferred to a naval air station at Rhode Island, where he served as plane captain for Admiral Ruble for eighteen months. Upon discharge he returned to SIU to complete a bachelor's degree. He later completed many hours above a masters degree at the University of Illinois. He did not pursue a doctorate because of having two young daughters at home; he had been gone so much of their early lives. Following World War II, he entered Greenville College, transferring to Southern Illinois University, Carbondale, to earn a Bachelor of Science degree in industrial education in 1954. He earned a Masters in Education from the University of Illinois in 1957, followed by additional hours of work at SIU, Edwardsville, and the University of Illinois, stopping short of a doctorate. Following his military service be became interested in pursuing the teaching of Industrial Arts. He taught at East Alton-Wood River High School before coming to Greenville to introduce industrial arts at the Greenville Junior High School. He went on to teach general shop, metal-working, and wood-working at the high school. He later served as high school guidance counselor and Director of Vocational and Adult Education. His teaching career spanned a twenty-five-year period. He served as a councilman during the mayoral terms of Adcock and Hickey, was elected as mayor in 1977. Following two terms as council member, he served three mayoral terms. This was followed with two terms as a member of the city planning commission under Mayor Eldon Turley, and as a council member again under Mayor Alan Gaffner. In all he served close to thirty-five years in city government. During his terms as mayor he worked with Tim Hudson, Harold Palmer, and Larry Stoever as city managers. Sold on the city management form of government, some fiveyear plans were initiated and put into use. Eight million dollars of grant monies were secured during that time making Greenville Spring Company, Carlisle SynTec, Wolf Industrial Park, United Stationers, the Federal Prison some of the realities accomplished. He was the recipient of the Greenville College Recognition Award in 1979, the Greenville Women's Club Service Award in 1993, and the Greenville Chamber of Commerce 2003 Gerald Turley Award.

Charles is survived by his wife and daughter Sandra (Van Loyd); five grandchildren: Kelly Horton, Brent Portell, Cheri Lucco, Charlotte Sutton, Virginia Kalotihos, and eleven great grandchildren: Trammel and Katie Horton; Brock, Brodie, Rece, Brylee Portell; Will Greenwald; Rachel (Dan) Cannoy, Hannah (Evan) Kelley, Laura Lucco; Christiana and Lena Kalotihos; ,Jordan and Grace Shaw. He was preceded in death by daughter Pamela Portell in 2013. He was also preceded in death by two brothers Wayne Ireland and Eugene Ireland , along with five sisters Bonnie Ireland, Marjorie Ireland, Fay Kistler, Helen Washburn, and Irene Eakin.


Location
Montrose Cemetery
Greenville, IL 62246
Memorial Contribution
Shriner's Hospital For Children
Greenville First Christian Church
1100 Killarney Drive
Greenville, IL 62246
618-664-0350
Memories Timeline
Guestbook
Sign the Guestbook, Light a Candle