Florence Caroline Curvey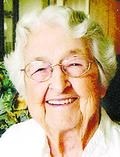 July 12, 1912 ~ July 4, 2010
TAYLORVILLE - Florence Caroline Curvey, 97, of Taylorville passed away Sunday, July 4, 2010 at 8:32 p.m. at Meadow Manor in Taylorville.
She was born July 12, 1912, at Farmersville, the daughter of John and Bertha (Minnis) Nagle. She married Kenneth M. Curvey on February 11, 1931 at Divernon; he preceded her in death along with her parents; son and daughter in law, Raymond Les and Bernetta M. Curvey; grandson, Kenneth Marion Curvey; 4 brothers and 4 sisters.
Florence retired after many years assisting her husband on the family farm. She was a member of St. Mary's Catholic Church.
Survivors: son, Bernard A. (Jane) Curvey of Taylorville; daughters, Lorraine (Clarence) Millburg of Raymond; Lucille (Edmund) Langen and Dotti (Bruce) Oberreiter both of Springfield; 23 grandchildren; 44 great-grandchildren; 6 great-great-grandchildren; brother, William Nagle of Bourbonnais; sister, Alice Daugherty of Springfield; several nieces and nephews.
Visitation will be held on Wednesday, July 7 from 4-7 p.m. at St. Mary's Catholic Church in Taylorville. A funeral mass will be held on Thursday, July 8 at 10 a.m. at St. Mary's Catholic Church with Rev. Alan Hunter officiating. Burial will follow in St. Maurice Catholic Cemetery at Morrisonville.
Memorials are suggested to St. Mary's Catholic School or St. Maurice Catholic Church.
Shafer-Perfetti Funeral Home in Taylorville is in charge of arrangements.



To Plant Memorial Trees in memory, please visit our Sympathy Store.
Memories Timeline
---