Genevieve W. Malan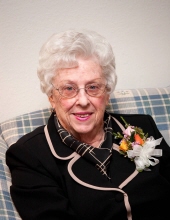 June 13, 1923 ~ October 27, 2016
Genevieve W. Malan, age 93, passed away Thursday, October 27, 2016 at her home at The Glenwood. Funeral services will be held Monday, October 31, 2016 at 11 AM at The Greenville First Christian Church. Burial will be in Mt. Auburn Cemetery. Friends may call Monday, October 31, 2016 after 10 AM at the church. Memorial contributions are suggested to The Greenville First Christian Church or Bond County Hospice.

Genevieve was born June 13, 1923 in Carlinville, IL to Clifford T. and Virginia (Springer) Wheat. She married Benell Brown in 1944. He died in 1945 while fighting in WW II. She then married Jean Paul Malan on July 31, 1953. He died July 13, 2001. She is survived by her children; James Malan and his wife Linda of Greenville, Barbara Schneider and her husband Ron of Greenville, and Scott Malan and his wife Braxton of Port St. Lucie, FL. She is also survived by her grandchildren Randie Lindley and her husband Tom, Margo Higgins and her husband Michael, Denise Jackson and her husband Jeff, Molly Malan and her partner Lawrence Gray, Cortney Rogers and her husband Brad, Jonathan Schneider and his wife Candace, Lettie Malan and her fiancé Munaf Assaf, William Malan and his wife Annie, and Stuart Malan and her great grandchildren Gracie Lindley, Megan Higgins, Grant Higgins, Dylan Jackson, Drew Jackson, Amiyah Gray, Jon David Schneider, Grady Rogers and Griffin Rogers.

She grew up in Carlinville and Hillsboro. She moved to Greenville with her family and she graduated from Greenville High School. She attended Stephen College in Columbia, MO and also The Frances Harrington School of Design in Chicago, IL. She served as Greenville City Clerk for a time. After her husband retired they travelled and eventually moved to Mesa, AR They moved back to Greenville to be near family and friends. She had been a member of the Bridge Club, The Shakespeare Club and also The Pierian Club.


Visitation
Monday, October 31, 2016
Greenville First Christian Church
1100 Killarney Drive
Greenville, IL 62246
Service
Monday, October 31, 2016
Greenville First Christian Church
1100 Killarney Drive
Greenville, IL 62246
Location
Mt. Auburn Cemetery
1402 E. College Avenue
Greenville, IL 62246
Memorial Contribution
Greenville First Christian Church
1100 Killarney Drive
Greenville, IL 62246
618-664-0350
Bond County Hospice
1502 S Fourth Street
Greenville, IL 62246
Memories Timeline
Guestbook
---