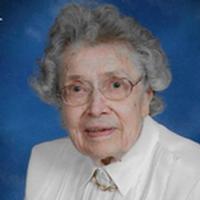 December 27, 1919 ~ December 21, 2016
Gertrude M. Speakman, 96, of Taylorville, passed away at 9:15 AM on Tuesday, December 21, 2016 at Life's Journey in Taylorville.

She was born on December 27, 1919 in Vandalia, IL to John and Bertha Schmid. Gertrude was married to Marion B. Speakman in June of 1947; he preceded her in death on May 28, 1992. She was also preceded in death by her son, Roger Dale Speakman on May 5, 1959, at the age four.

Mrs. Speakman is survived by her two sons: Clifford (Aldie) Speakman of Yuba City, Calif., and Joe (fiancAC., Diane Casey) of Eagan, Minn.; Seven grandchildren: Richard (Karyn) Speakman, and Michael Speakman of Yuba City, Calif. and Rachel Karnick, Andrew Speakman, John (Nicole) Speakman, Benjamin (Siri) Speakman, and Nathanael (Shannon) Speakman, all from Minnesota, plus 12 great-grandchildren. Her sister, Hilda is 101, and her brother, Victor passed away at age 89.

Gertrude and Marion owned Speakman Electronics for a number of years selling and serving Zenith and Admiral TVs. They sold the business in 1973 and enjoyed 20 years of retirement going to Florida for the winters. After Marion passed away in 1992, Joe would drive her down in November and take her back to Illinois in April until her last year, 2005. He referred to it as "Driving Miss Gertrude". Gertrude entered assisted living in 2009 at Taylorville Estates and then in 2014, entered Life's Journey.

Gertrude was best known for her love of church work and making pies for the Harvest Fall Dinners. People would put their orders in early for one of Gert's pies. She loved playing cards, dominos and board games. In the fall, she couldn't wait to get to Florida for the warm weather and be with the many, many friends she and dad had made in the park where they lived.

Funeral services will be held at 11:00 AM on Thursday, December 29, 2016 at Trinity Lutheran Church in Taylorville with Pastor Rodney Blomquist officiating. Burial will follow at Oak Hill Cemetery, Taylorville. Visitation will be held from 10:00 AM until time of service at Trinity Lutheran Church.

Shafer-Perfetti Funeral Home in Taylorville is in charge of arrangements.
---
SERVICES
Visitation
Thursday, December 29, 2016
10:00 AM - 11:00 AM
Trinity Lutheran Church
1010 North Webster Street
Taylorville, Illinois 62568
Funeral Service
Thursday, December 29, 2016
11:00 AM
Trinity Lutheran Church
1010 North Webster Street
Taylorville, Illinois 62568
Burial
Thursday, December 29, 2016
1:30 PM
Oak Hill Cemetery
820 South Cherokee Street
Taylorville, Illinois
Memories Timeline
Guestbook
Sign the Guestbook, Light a Candle