Ruby Hardy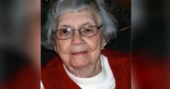 September 29, 1926 ~ November 21, 2010
Ruby I. Hardy, age 84, of Rose Bud, Arkansas, passed away Sunday, November 21, 2010, at the White County Medical Center in Searcy. Born in Decatur, Illinois, on September 29, 1926, she was the daughter of the late Vern and Alice (Davis) Shelton.
A former resident of Palmer, Illinois, Mrs. Hardy had been a resident of Cleburne County for thirty-six years. She was a homemaker and a member of Clearview Baptist Church in Heber Springs.
She was preceded in death by her husband, Wayne Hardy, who passed away August 14, 1993.
Mrs. Hardy is survived by three daughters, Judy Sweeny and her husband, Steve, of Panama City, Florida, Donna Bishop and her husband, John, of Rose Bud, and Mary Jo Price and her husband, Mike, of Heber Springs; nine grandchildren and ten great-grandchildren. Mrs. Hardy is also survived by other relatives and her many friends.
Funeral services will be held Tuesday, November 23, at 9:30 a.m. in the Olmstead Chapel with Pastor Rick Dawson and John Bishop officiating. Interment will be in the Morrisonville Cemetery at Morrisonville, Illinois.
Memories Timeline
---